Haunebu II Reichsflugscheibe German Flying Saucer
Item Number:
SQM0001
Manufacturer
SQUADRON
Scale:
1:72
82.

50

€
Unfortunately sold out at the moment
No new delivery date known, if necessary please activate stock alert
Plastic Model Kit for a Haunebu II Flying Saucer from the German Wehrmacht (Luftwaffe) in Era WWII.
Contains:
- 125 parts
- Interior (three main operating consoles and nine crew seats, electro-magnetic conductor)
- 110mm primary Kraftstrahlkanone (Main Gun)
- 8 x 80mm secondary KSK-Canons
- Ca. 35 cm diameter
- Ca. 12 cm high
- Booklet with background informations
- Decals
- Scale: 1:72
- not built/not painted
- paint and glue not included
Information:
Please note that the kit includes no anti-constitutional symbols (§86 and §86a of the German Criminal Code).
Color recommendation from the producer:
MA71057 Black
MA71015 Dark Green RLM71
MA71259 Grey Violet RLM75
MA71062 Aluminum
MA71101 Light Blue RLM78
More pictures can be found in our blog.
http://www.modellbau-koenig.de/blog/en/2017/02/12/more-photographic-material-from-the-german-flying-saucer-haunebu-ii/
The second Saucer is only a reference and not included. The vehicles and the base are not included.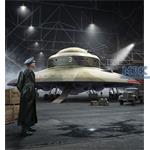 Schreiben Sie jetzt Ihre persönliche Erfahrung mit diesem Artikel und helfen Sie anderen bei deren Kaufentscheidung