18.

40

€
Unfortunately sold out at the moment
No new delivery date known, if necessary please activate stock alert
Plastic model kit
Scale 1.72
Not assembled or painted

Nakajima Ki-43-III Kó Hayabusa 1/72

Imperial Japanese Army Air Force fighters Ki-43 fought throughout WW 2 from the attack on Malaya till the last fights over mainland Japan. Subsequent versions of Ki-43 model I, II and III in different modifications were built. The final, mass produced version of the famous fighter was the Ki-43-III Ko Hayabusa was deployed in time when Japan was slowly beginning to lose the war. Even though it was fitted with a more powerful Nakajima Ha 115-II engine and equipped with two 12.7 mm Ho-103 machine guns it was not able to outperform modern allied machines. Because of its phenomenal manoeuvrability, the Ki-43 was still a deadly weapon in hands of a skilled pilot.

One of such pilots was without any question Capt. Hideo Miyabe, commander of 64th Sentai, stationed in Burma in autumn 1944. The decals in our model cater for markings of his machine that sported an arrow on the fin as the 64th Sentai marking. Other two options cover a 48th Sentai machine from Nanking in China 1945 and a 65th Sentai machine stationed in mainland Japan in 1945. Of note is that the 65th Sentai was light bomber unit and their Hayabusas were to be used in the fighter-bomber role. The kit contains two sprues of grey plastic parts and a frame of injected clear parts.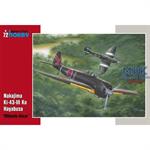 Write now your personal experience with this article and help others with their purchase decision.