plastic kit
scale 1:72
unassembled/unpainted

SB2C-5 Helldiver "The Final Version" 1/72

The final production version of the famous Helldiver dive bomber was the SB2C-5 which was able to carry much more fuel, featured a paddle-bladed propeller without a spinner, enlarged bomb bay, sliding front cockpit canopy hood with simplified framing and other improvements. By standard, it was also fitted with the AN/APS-4 radar set. Being delivered to a few US Navy units, the SB2C-5 version took part in the closing fightings of the war. For a short while after the war, the type became a standard dive bomber of the US Navy until being discarded from the front line service. Within the military aid programme, the SB2C-5 Helldiver was also delivered to Italy, Greece, Portugal and Thailand. The Italian Helldivers were the longest-serving ones, flying until 1959. Greece successfully used her machines to battle the communist insurgents during the Greek Civil War. France´s machines were operated not only in domestic waters but also, and one may say most importantly in the then French Indo-China where they saw action against the Viet-Minh and got themselves famous in 1954 for taking part in the heroic, albeit unsuccessfull operation to liberate seized Dien Bien Phu.

The Academy´s highly attractive SB2C-4 kit which serves as a basis for our Dash 5 reboxing has benefited from addition of new injected parts portraying the different bomb bay, propeller and the clear canopy. The kit also comprises 3D-designed resin underwing armament including napalm tanks, AN/APS-4 radar and undercarriage wheels with nice tyre tread and separate hub covers. The decal sheet offers the following options – a late war US Navy machine, a Dien Bien Phu machine of the French Aéronavale, a Greece´s Helldiver and also one Italian machine in dark blue overall with yellow trimmings. The kit has been prepared in a limited edition.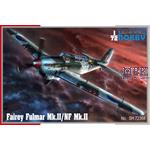 Write now your personal experience with this article and help others with their purchase decision.