95.

00

€
Unfortunately sold out at the moment
No new delivery date known, if necessary please activate stock alert
Die unglaublich detaillierten Modelle sind meisterhaft umgesetzt, im Spritzguss und der Baubarkeit unübertroffen .
Dies gibt jedem Erbauer die Chance sein Modell nach eigenem Ermessen weiter zu detaillieren, hierbei hilft die wohl beste Bauanleitung aller Zeiten. Diese ist im Ganzen durchgehend farbig gedruckt und enthält zahlreiche Einsatz- und Museumsfotos.
Plastikbausatz
Maßstab 1:32

nicht gebaut/unbemalt
Farbe und Klebstoff nicht enthalten

-151 high-quality injection moulded plastic parts.
-9 photo-etched metal detail parts.
-2 Gnome engines, 80hp & 100hp, included.
-Optional side cowls, engine cowls, propellers and Le Prieur rockets.
-24 page fully illustrated instruction manual.
-High-quality Cartograf decals including markings for 5 colour schemes;



A - Sopwith Pup N6179 "Baby Mine", TC Vernon (1? victory) & AW Carter (17 victories), B Flight 3(N) Sqn RNAS, March to April 1917.
B - Sopwith Pup N6200 "Bobs", AM Shook, B Flight 4(N) Sqn RNAS, April to May 1917 (12 victories).
C - Sopwith Pup B2192, HH Balfour & EL Foot, School of Special Flying Gosport, August to September 1917.
D - Sopwith Pup B5904 "A 1", 61 Sqn (Home Defense) RFC, September 1917.
E - Sopwith Pup B5906 "Impikoff 5, 44 Sqn (Home Defence) RFC/RAF 1918.


preorder price available until 28th June 2019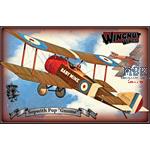 Write now your personal experience with this article and help others with their purchase decision.