Royal Aircraft Factory S.E.5
Item Number:
MER62402
Manufacturer
MERIT
Scale:
1:24
56.

00

€
Unfortunately sold out at the moment
No new delivery date known, if necessary please activate stock alert
Plastic Model Kit for a WWI plane
- Scale 1:24

unassembled/unpainted

The first examples reached the Western Front before the Sopwith Camel. Although it had a much better overall performance than the Camel, problems with its Hispano-Suiza engine, particularly the geared-output H-S 8B-powered early versions, meant that there was a chronic shortage of S.E.5s until well into 1918 and fewer squadrons were equipped with the S.E.5 than with the Sopwith fighter. Together with the Camel, the S.E.5 was instrumental in regaining allied air superiority in mid-1917 and maintaining it for the rest of the war, ensuring there was no repetition of "Bloody April" 1917 when losses in the Royal Flying Corps were much heavier than in the Luftstreitkräfte.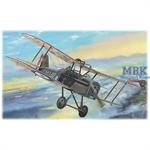 Schreiben Sie jetzt Ihre persönliche Erfahrung mit diesem Artikel und helfen Sie anderen bei deren Kaufentscheidung