155.

00

€
Unfortunately sold out at the moment
No new delivery date known, if necessary please activate stock alert
Die unglaublich detaillierten Modelle sind meisterhaft umgesetzt, im Spritzguss und der Baubarkeit unübertroffen .
Dies gibt jedem Erbauer die Chance sein Modell nach eigenem Ermessen weiter zu detaillieren, hierbei hilft die wohl beste Bauanleitung aller Zeiten. Diese ist im Ganzen durchgehend farbig gedruckt und enthält zahlreiche Einsatz- und Museumsfotos.
Plastikbausatz
Maßstab 1:32

nicht gebaut/unbemalt
Farbe und Klebstoff nicht enthalten

-261 high quality injection moulded plastic parts.
-16 photo-etched metal detail parts.
-Highly detailed 23 part Argus As.III engine.
-Optional propellers, radio, cameras, radiators, ailerons, small bombs and diorama accessories.
-28 page fully illustrated instruction manual.
-3 high quality Cartograf decal sheets including all new fitted lozenge camouflage and markings for 5 colour schemes;



A = Hannover Cl.II 9276/17 "White 5", H Bronner, Royal Bavarian Schusta 27b, late 1917 to early 1918
B = Hannover Cl.II 9280/17 "Comet", Grönhagen? & J Gfrör, FA (A) 282, November 1917
C = Hannover Cl.II 9301/17 "White 4", J Missfelder, Royal Prussian Schusta 12, March 1918
D = Hannover Cl.II 9398/17 "2", JKH Müller & A Zitzelsberger, Royal Bavarian Schusta 24b, March 1918
E = Hannover Cl.II (Rol) 622/18 "White 2", Bayerische-Fliegerschule 5, mid to late 1918


preorder price available until 05th September 2019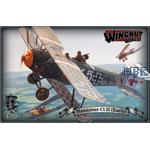 Write now your personal experience with this article and help others with their purchase decision.