Highly detailed plastic Model kit with PE parts to build a plane
Scale 1:32
not built/painted
The unique Gotha UWD was one of several different twin engine seaplanes ordered by the German Navy to fit their requirements for a long range reconnaissance and torpedo carrying aircraft (although there is no evidence to suggest it was ever armed with a torpedo). The Gotha UWD was developed from the G.1 land plane and was completed in December 1915. It was described as easy to fly, able to take to the air with ease and was smooth on landing. In a preview of things to come, Gotha UWD 120 was used to bomb England during early 1916.
-274 high-quality injection moulded plastic parts.
-4 photo-etched metal detail parts.
-2x Daimler-Mercedes 160hp D.III engines.
-63cm wingspan.
-10kg Carbonit bombs & bomb dropping 'proboscis', counter rotating propellers and optional map & document case and camera.
-24 page fully illustrated instruction manual.
-High quality Cartograf decals for Gotha UWD 120 which served with See Flieger Abteilung 1 in 1916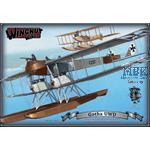 Write now your personal experience with this article and help others with their purchase decision.