F6F Hellcat - late armament 1:24
Item Number:
AM-24-019
Manufacturer
Master
F6F Hellcat - early armament (.50 cal Browning barrels with drilled cooling jackets)

The set includes turned brass Browning ANM2 .50 cal with separate cooling jackets

The set is dedicated to AIRFIX F6F Hellcat 1:24 model kit

This is a Metal Barrel / Metall Upgrade and Conversion Kit by Master Model from Poland for Aircraft Kits. This kit is in scale 1:24. There is no complete Model Kit included, you need a Basic Model where you can add these metall replacment parts! Shown model kits on product photos are only used for illustration!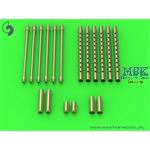 Schreiben Sie jetzt Ihre persönliche Erfahrung mit diesem Artikel und helfen Sie anderen bei deren Kaufentscheidung