Grumman F4F-4 Wildcat - Expert Set
Item Number:
ARMA70047
Manufacturer
ARMA HOBBY
Scale:
1:72
The F4 Wildcat was the US Navy's primary carrier-based fighter at the start of World War II.
Distinctive for its stocky appearance, the Wildcat had been developed as part of a successful line of pre-war biplanes and entered service with the US Navy a year before the Japanese attack on Pearl Harbor.
By the time of the decisive battles for Midway and Guadalcanal, the F4F-4 model had become the most numerous variant, and new tactics enabled American Navy and Marine pilots to gain the upper hand over the previously all-conquering Mitsubishi Zero.
The F4F-4 entered service in 1941 and featured six machine guns and Grumman's patented Sto-Wing folding wing system.
This allowed more aircraft to be accommodated on a carrier.
This increased the number of fighters that could be parked on a carrier by more than a factor of two.
The F4F-4 was the version that saw the most combat action in the early years of the war.
including the Battle of Midway.
Plastic model kit
with photo-etched parts

Six marking options
1:72 scale
Unbuilt / unpainted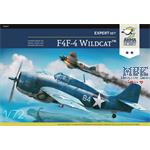 Write now your personal experience with this article and help others with their purchase decision.