Aermacchi MB 326 1/48
Item Number:
IT2814
Manufacturer
ITALERI
Scale:
1:48

Plastic kit

Scale 1:48

not assembled or painted

MB-326

SUPER DECALS BLATT FÜR 4 VERSIONEN - FARBEN BEDIENUNGSBLATT

NICHT ENTHALTENE ZAHLEN

Die Macchi MB-326 wurde in den 1950er Jahren entwickelt, um die Ausbildung "Stormi" der italienischen Luftwaffe auszustatten. Die ersten Einheiten des neuen zweisitzigen Tiefdecker-Trainers Macchi wurden 1961 ausgeliefert und erwiesen sich auf Anhieb als technisch hervorragendes Flugzeug mit guten Flug- und Betriebseigenschaften. Leicht zu erkennen an den beiden flügelmontierten Lufteinlässen neben dem Rumpf, war es mit einem britischen Bristol Siddeley Viper-Triebwerk ausgestattet. Die MB-326 wurde für das Fortbildungsprogramm der italienischen Luftwaffe geliefert und erfüllte diese wichtige Rolle mehrere Jahre lang, bevor sie durch die modernere MB-339 ersetzt wurde. Es erzielte auch einen beachtlichen weltweiten kommerziellen Erfolg und wurde in mehr als 10 Ländern verkauft. Es wurde tatsächlich zu einem der beliebtesten Flugzeuge der italienischen Luftfahrtindustrie. Der MB-326 könnte auch so umgebaut werden, dass er zwei 12,7-mm-Maschinengewehre montiert hat, mit einer Offensivkapazität von Raketen und Bomben unter den Flügeln.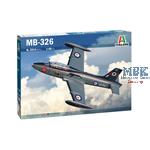 Write now your personal experience with this article and help others with their purchase decision.