Douglas SBD-5 "Battle of the Philippine Sea"
Item Number:
ACD12329
Manufacturer
ACADEMY
Scale:
1:48

31.

50

€
Unfortunately sold out at the moment
No new delivery date known, if necessary please activate stock alert
The Douglas SBD Dauntless was an American naval reconnaissance aircraft and dive bomber manufactured by Douglas Aircraft during World War II from 1940 to 1944. The SBD ("Scout Bomber Douglas") was the United States Navy's primary carrier-based scout/dive bomber from mid-1940 to mid-1944.

The SBD was also flown by the United States Marine Corps, both from shore air bases and aircraft carriers.

The Battle of the Philippine Sea (19-20 June 1944) was a major naval battle of World War II that eliminated the Imperial Japanese Navy's ability to conduct large-scale carrier operations. It took place during the United States amphibious invasion of the Marianas during the Pacific War.

Plastic model kit with masking templates and photo-etched parts

Scale 1:48

unbuilt/unpainted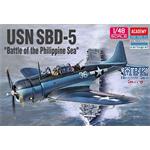 Write now your personal experience with this article and help others with their purchase decision.