Bolt Action: WWII British Airborne
Item Number:
BA-402011009
Manufacturer
Bolt Action
Scale:
1:56
Few divisions in the British Army have earned such a valorous reputation so quickly as the Parachute Division. Known as the Red Devils by the Germans for their trademark maroon beret and dogged fighting ability, the British airborne grew into a force to be reckoned with, whether delivered by Dakota aircraft, Horsa glider or as front line shock troops.

Box contains 30 plastic paratroopers
Scale: 28mm / 1:56

This product is supplied unassembled and unpainted. Glue and paints not included.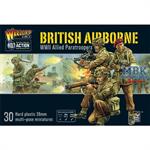 Schreiben Sie jetzt Ihre persönliche Erfahrung mit diesem Artikel und helfen Sie anderen bei deren Kaufentscheidung