IS-2 MOD. 1944 - 28mm
Item Number:
IT15764
Manufacturer
ITALERI
Scale:
1:56

Now: 10.

75

€

*
Sonderangebot
More than 5 Pieces available
Shipping 1 - 2 days
Plastikmodellbausatz eines Panzers

- Maßstab 1:56 / 28mm

- nicht gebaut/bemalt

100% NEW MOULD - THE BOX CONTAINS 1 MODEL AND 1 TANKER
WWll RUSSIAN MILITARY VEHICLE - (28 mm.) EASY ASSEMBLY FOR GAMERS AND COLLECTORS

In February of 1943, to replace the outdated KV series, the first prototypes of the new heavy tanks has been designed with the specific purpose to equip the Red Army tank regiments and counterbalance the new and effective German Tiger and Panther. The most famous was the Joseph Stalin JS-2. It adopted, as main armament, the powerful D25-T mm gun, installed in the central turret and it has been characterized by the casted hull, the heavy armor and the use of the 12 cylinders diesel 600 HP engine. The total weight of the JS-2 was 46 tons. It was used in the battles that brought to the liberation of Ukraine, in the operations to conquer Hungary and in the final stage of the World War II in Europe : the Battle of Berlin.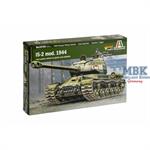 Schreiben Sie jetzt Ihre persönliche Erfahrung mit diesem Artikel und helfen Sie anderen bei deren Kaufentscheidung