Bolt Action: Soviet Maxim MMG Team
Item Number:
BA-WGB-RI-21 (211)
Manufacturer
Bolt Action
Scale:
1:56
6.

95

€
Unfortunately sold out at the moment
No new delivery date known, if necessary please activate stock alert
Three Soviet gunners and and wheeled maxim MMG. Crouched on his knees the gunner fires the maxim, he is aided by an ammo man, feeding in bullet belts. Their NCO points out targets and urges them on.

Contents:

Pack contains 3 metal figures and 1 machine gun.


Scale: 28mm / 1:56

This product is supplied unassembled and unpainted. Glue and paints not included.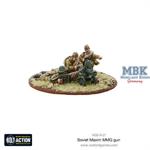 Write now your personal experience with this article and help others with their purchase decision.