PE Connecto Crosses / Verbindungsstücke 1,3mm
Item Number:
AA-C13
Manufacturer
Albion Alloys

54 pieces
One of the most exciting new products available to the model maker. You can now create all kinds of shapes, designs and structures with Albion Alloys micro tubes. The Connecto pieces are easy to use. Simply remove form the sprue, insert cut lengths of tube and begin to assemble. The Connecto legs are easily bent or removed enabling 3D shapes to be created easily and simply.
The Connecto product codes act as a helpful guide as to which micro tube it's to be used with.
i.e. C-07 is used with MBT07 / MAT07 / NST07 etc.
For more details please take a look on the picture.
You may want to take a look in a product video from the producer.
https://www.youtube.com/watch?v=naOfHPKNRig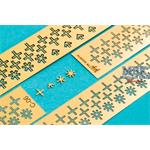 Schreiben Sie jetzt Ihre persönliche Erfahrung mit diesem Artikel und helfen Sie anderen bei deren Kaufentscheidung