8.

95

€
Unfortunately sold out at the moment
No new delivery date known, if necessary please activate stock alert
Stanzeisen für 3,5mm Löcher.
kann Plastikkarten und Tape bis zu einer Stärke von 0,5mm dicke stanzen
Inhalt ein Stanzeisen
kann einzen oder mit dem Tamiya Artikel 74122 verwendet werden



The Modeler's Punch (Item 74122) has proven a popular Tamiya tool. It allows you to easily and precisely punch holes in materials such as masking tape, or even plastic board up to 0.5mm thick! This 3.5mm bit is compatible with Item 74122 Modeler's Punch 2mm/3mm. It offers a size not included with the standard punch, increasing your modeling options!

Includes 1 bit, crafted from durable chrome molybdenum.
Item comes with protective oil applied to the bit to prevent corrosion. This oil must be removed before use.
Compatible with Item 74122 Modeler's Punch.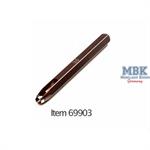 Write now your personal experience with this article and help others with their purchase decision.