Bolt Action: Imperial Japanese FOO team
Item Number:
BA-WGB-JI-34 (254)
Manufacturer
Bolt Action
Scale:
1:56
4.

95

€
Unfortunately sold out at the moment
No new delivery date known, if necessary please activate stock alert
A military artillery observer or spotter or FO (forward observer) is responsible for directing artillery and mortar fire onto a target, and may be a Forward Air Controller (FAC) for close air support and spotter for naval gunfire support.

Pack consists of 3 foot figures

Scale: 28mm / 1:56

This product is supplied unassembled and unpainted. Glue and paints not included.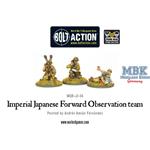 Schreiben Sie jetzt Ihre persönliche Erfahrung mit diesem Artikel und helfen Sie anderen bei deren Kaufentscheidung