Text: Englisch
176 Seirten, 250 s/w Fotos, 8 Farbprofile und 8 Zeichnungen
Hardcover


Red Machines 1: T-60 Small Tank & Variants Russian tank book by James Kinnear & Yuri Pasholok.

The perfect reference companion to Mini-Art kit 35215?

The first in a new series from Canfora Design and Publishing, T-60 Small Tank & Variants covers this often overlooked light AFV from planning to production to combat and beyond. The T-60 was used as the basis for a number of variants; anti-aircraft, rocket artillery and even a flying tank! These are described in full in text and images, providing top-notch inspiration for modellers. Quick stats: 176 pages, 250+ photos, 8 colour profile & 8 drawings.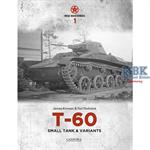 Schreiben Sie jetzt Ihre persönliche Erfahrung mit diesem Artikel und helfen Sie anderen bei deren Kaufentscheidung