TOS Enterprise 1701 1:350 Registry decals
Item Number:
PLLMKA010
Manufacturer
MKA
Scale:
1:350
Additional decals for the Polar Lights Enterprise in 1:350.
Includes markings for the following ships from the Starfleet and the Terran Empire:
- NCC-1764 Defiant
- NCC-1017 Constellation
- NCC-1700 Constitution
- NCC-1664 Excalibur
- NCC-1672 Exeter
- NCC-1371 Republic
- NCC-1703 Hood
- NCC-1709 Lexington
- NCC-1652 Potemkin
- NCC-1717 Yorktown
- NCC-1831 Intrepid
- NCC-1895 Endeavor
- NCC-1697 Essex
- NCC-956 Eagle
- Scale 1:350
- not built/painted
- paint and glue not included
Please note that the item will be ordered on request. After your order, it will take round about two or three weeks until the item arrives here.
Please contact our
Customer Care-Team
if you have any questions.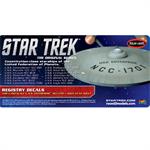 Schreiben Sie jetzt Ihre persönliche Erfahrung mit diesem Artikel und helfen Sie anderen bei deren Kaufentscheidung