Panzerbüchse, Panzerfaust und Panzerschreck
WAFFEN IM EINSATZ Die PK-Foto-Serie Band 5
Guus de Vries & Bas J. Martens


WAFFEN IM EINSATZ - Die PK-Foto-Serie ist eine neue Buchreihe zur Ausstattung der Deutschen Wehrmacht mit Handwaffen während des Zweiten Weltkriegs. Jeder Band ist einem Waffenmodell gewidmet und enthält grundlegende Informationen zu Geschichte und Entwicklung, Munition und Zubehör, Codezeichen und Stempelungen sowie Abbildungen nahezu aller Modellvarianten. Das Besondere ist jedoch die Auswahl offizieller deutscher Propagandafotos, die bisher selten oder gar nicht veröffentlicht wurden. Diese Mischung aus solider Information und zeitgenössischen Fotos macht die PK-Foto-Serie zu einer wichtigen Informationquelle für jeden Sammler und zeitgeschichtlich interessierten Leser, da Waffen und Gerät im tatsächlichen Kriegseinsatz gezeigt werden. 152 Seiten, 101 großformatige PK- und 61 Waffen- und Detailfotos, Format 22,5 x 22,5 cm, gebunden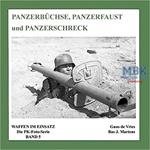 Write now your personal experience with this article and help others with their purchase decision.