Die Bundeswehr - Von Eisenschweinen und Erdferkeln
Item Number:
VS7487
Manufacturer
VS Books
DIE BUNDESWEHR - VON EISENSCHWEINEN UND ERDFERKELN 1955-1966
A Pictorial Journey through the Early Years of the Bundeswehr - Volume 3

Die beiden ersten Jahrzehnte nach den einschneidenden Ereignissen des zweiten Weltkrieges werden mit dem Fortschreiten der Zeit immer mehr zu einem Teil der Geschichte, den nur noch die wenigsten aus eigenem Erleben kennen. Die damalige geopolitische Entwicklung, die zu Blockbildung und Ost-West Konflikt führte, hat auch die Entstehung der Bundeswehr maßgeblich beeinflusst.
Das wachsende Interesse an den ersten zehn Jahren Bundeswehr – egal ob sich dies mehr auf die persönliche Ausstattung der Soldaten, die Fahrzeuge oder zeitgeschichtliche Zusammenhänge konzentriert – haben zu einer ausgesprochen positiven Resonanz auf die ersten beiden Bildbände unserer Reihe geführt und uns dazu angeregt, die Reihe mit diesem dritten Band fortzusetzen.

Format 28 x 21 cm Querformat, gebunden, 160 Seiten, 253 Abbildungen, Texte deutsch/englisch - with complete English text !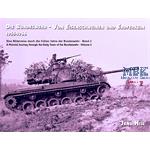 Schreiben Sie jetzt Ihre persönliche Erfahrung mit diesem Artikel und helfen Sie anderen bei deren Kaufentscheidung