16.

95

€
Unfortunately sold out at the moment
No new delivery date known, if necessary please activate stock alert
Though the modelling world is awash with an incredible variety of military vehicle kits from a huge number of different companies, one stands head and shoulders above the others in terms of originality, buildability and fun. That company is Tamiya, who have consistently provided the budding enthusiast with some of the finest kits available in the scale of 1:35.

This new book brings together five detailed features that will show what is possible from this extensive range of kits. In so doing, it offers hints and tips, detailed step-by-step guides and written descriptions on all manner of techniques from basic construction, through detailing, painting and realistic weathering. No stone is left unturned in the quest to inspire the modeller to complete similar projects for themselves. It really is a one-stop-shop for the budding military modeller!

Within its 84 pages you will five find features that take you through the construction and painting of the 'Easy Eight' Sherman, Nashorn, Elefant, Gama Goat and Tiran 5, all expertly put together by our renowned team of authors, Spencer Pollard, Brett Green and Marcus Nicholls, who have created one of the finest collections of modelling features ever published, on this famous range of kits.

This then is the world of Tamiya's wonderful 1:35 military vehicle kits – we hope that you enjoy your visit!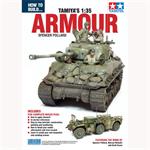 Write now your personal experience with this article and help others with their purchase decision.