The beautiful countryside of Switzerland with its border of 1.899 km length has three geological areas: the Jura, the tight populated homeland and the Alpes.
With a population of 8,2 million people right in the middle of Europe Switzerland holds a strong military capacity for their safety.
This issue gives the reader a potent view on a Swiss tank brigade.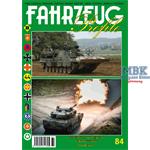 Schreiben Sie jetzt Ihre persönliche Erfahrung mit diesem Artikel und helfen Sie anderen bei deren Kaufentscheidung