Fahrzeug Profile 80 - Gebirgsjäger im Einsatz
Item Number:
FP80
Manufacturer
UNITEC

Gebirgsverband "Bergkristall" Gebirgsjäger im Einsatz
The German special forces "Gebirgsjäger" are always seen in connection with high mountain area fighting activities. Although it is no longer probable that important decisions in a war situation will be felt in those areas the "Gebirgsjäger" developed an ability to fight in difficult areas and solve immens difficult problems. They are really special forces.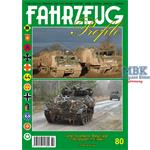 Write now your personal experience with this article and help others with their purchase decision.