Calvin Tan´s Guide to Converting + Painting Figure
Item Number:
MDA-012 (Braun)
Manufacturer
Model Art
Here is "The Man" most recent figure painted for the instructional DVD produced by "Model Art magazine". It is to emphasize that no additions have been made to this figure and the final result is all due to good old fashion hand painting (and maybe a spray can or two for the primer). This instructional DVD was developed for the beginner armor and diorama modeller in mind; in which will be demonstrated a variety of easy to master techniques employed to attain this final result. Topics include proper paint application techniques, choice of brushes as well as some little tricks and short cuts the auther developed over the years painting figures. Bear in mind that it is not a continuous record of the painting process but a showcase of techniques for any modeller of different skill levels to incorporate into their repertoire of techniques.

You can see "how to painting and pimp a German Figure incl. Base"


Title Calvin Tan's Basic Guide to Figure Painting. 3 DVDs
Details English and japanese language, regional code 0 (Pal), in colour, running time 253minutes.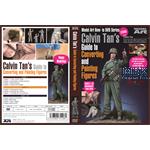 Schreiben Sie jetzt Ihre persönliche Erfahrung mit diesem Artikel und helfen Sie anderen bei deren Kaufentscheidung