Plastic kit
Scale 1:16
not built or painted

WWII Figur Ladeschütze MG

The latest addition to our 1/16 scale World Figure Series is a German infantryman carrying a large machine gun tripod. Reproduced in exquisite detail, the large scale makes it possible to admire the tripods mechanical features. German soldier in European campaign dress is perfect for displaying alongside ITEM 36307 German Wehrmacht Infantryman.

About the Uniform

The Type 36 field uniform, which was used in the early stages of WWII, had a green collar and insignia base. These were made the same color as the rest of the uniform for the subsequently produced Type 40.

About the Tripod

In 1942, the MG42 became the main machine gun of the German army, and a tripod was used to provide accurate firing. Combined with optical sights, it was able to provide firing range of over 3000m. The collapsible tripod weighed 21kg and was easily portable.

About the model

•1/16 scale German soldier figure composed of 29 separate parts. Tripod of 16 parts.
•Choose to display figure wearing helmet, or with head uncovered.
•Includes variety of accessories such as MP40 machine pistol, grenade, gas mask case and canteen.
•Rank insignia depicted by decal.
•Comes with display base.
•Display alongside 1/16 Scale German Wehrmacht Infantryman, Kubelwagen, King Tiger and Tiger I tanks.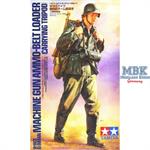 Write now your personal experience with this article and help others with their purchase decision.