Powder snow

With the NOCH powder snow you can conjure up a fascinating winter landscape on your model railroad layout.
The completely different mood of your model landscape will inspire you!
One advantage of powder snow: with it you can create an excellent temporary winter mood. The glittering white special powder is water-repellent and can be removed from your system with a vacuum cleaner.
If you want to permanently snow on your model landscape, use the NOCH adhesive & fixing spray (item no. 61152).

Contents 1 bag with 200gr.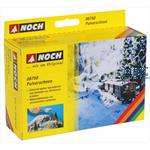 Schreiben Sie jetzt Ihre persönliche Erfahrung mit diesem Artikel und helfen Sie anderen bei deren Kaufentscheidung