AV-8A Harrier 1/72
Item Number:
IT1410
Manufacturer
ITALERI
Scale:
1:72

Plastic Model Kit for a plane
- Scale 1:72
- not assembled or painted
- color & glue not included

SUPER DECALS SHEET FOR 2 VERSIONS - COLOR INSTRUCTION SHEET

The Harrier is probably the most famous aircraft with vertical/short takeoff and landing capabilities of military History. Designed and developed by the British manufacturer Hawker Siddeley in the sixties, it was largely used, in its various versions, by British Royal Air Force and Royal Navy. The United State Marine Corps showed a significant interest in the aircraft that could be the ideal answer the operating needs. The single-seat AV-8A was specifically developed for the USMC and entered service in 1971, in the Marines' attack squadrons. The AV-8A was able to operate from the ground bases and from the converted amphibious assault ships. The AV-8A could successfully perform close support, ground attack and air defence duties. It was very appreciate by USMC in fact the AV-8A was fully integrated with the other landing vehicles and helicopters during the Amphibious assault operations.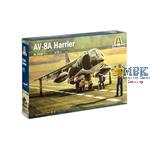 Schreiben Sie jetzt Ihre persönliche Erfahrung mit diesem Artikel und helfen Sie anderen bei deren Kaufentscheidung